26 July, 2016
How to make a Chicken Sandwich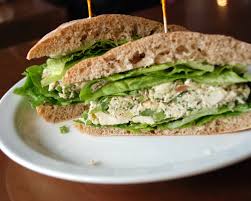 Posted in :
Lunch
on
by :
allison
Chicken Sandwich
Ingredients for making a Chicken Sandwich
Whole wheat bread slices 2
Margarine 1 1/2 tsp
Cooked chicken breast (skinned and boned) 2oz
Pepper, sprinkle
Lettuce leaves 2
Light salad dressing or mayonnaise 1 1/2 tsp
Instructions for making a Chicken Sandwich
Spread bread slices with margarine. On 1 slice layer chicken, pepper and lettuce. Spread second bread slice with salad dressing and place on lettuce. Cut in half. Serves 1.