12 July, 2016
How to Make Tuna Quiche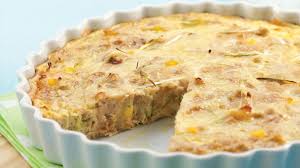 Posted in :
Lunch
on
by :
allison
Tuna Quiche
Ingredients for making Tuna Quiche
Egg white (large) 1
All-purpose flour 2 1/2 tbsp.
Evaporated skim milk 1 1/4 cups
Cayenne pepper 1/8 tsp.
Paprika 1/8 tsp.
Canned white tuna, water packed, drained 6 1/2 oz
Unbaked 9 inch pie shell 1
Grated low-fat farmers cheese 1 cup
Chopped green onion 2 tbsp.
Instructions for making Tuna Quiche
Beat egg white in a small bowl until frothy. Add flour. Beat until smooth. Mix in milk, cayenne pepper and paprika. Spread tuna in bottom of pie shell. Sprinkle with cheese and green onion. Pour milk mixture over top. Bake in 350 degrees oven for about 50 to 60 minutes until set. Remove from oven. Makes 8 appetizer servings.