23 February, 2016
How To Make Oriental Meatballs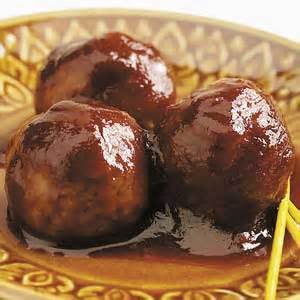 Posted in :
Dinner
on
by :
allison
Oriental Meatballs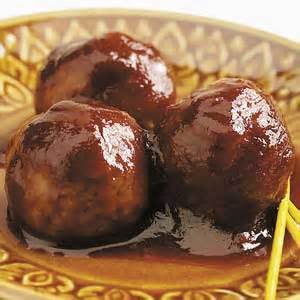 Ingredients for Oriental Meatballs
Meatballs 1 lb.
Lean ground beef 1/2 cup
Water 1/2 Cup
Dry bread crumbs 1/4 tsp.
Pepper 1/4 tsp.
Onion powder 1/4 tsp.
Garlic powder 1/4 tsp.
Canned water chestnuts, drained, very finely chopped 5 oz.
Peach Dip
Babyfood strained peaches, no added sugar 2 x 4 1/2 oz.
Cider vinegar 2 tbsp.
Liquid sweetener 2 tsp.
Instructions for making Oriental Meatballs
Meatballs:
Combine all 7 ingredients in bowl. Mix well. Divide into 4 equal balls. Now divide each ball into 10 meatballs. Arrange on baking sheet which has been coated with no-stick cooking spray. Cook in 375°F oven for about 15 to 20 minutes. Yield: 40 meatballs.
Peach Dip:
Put all 3 ingredients into a bowl. Stir. Use hot or cold as a dip for meatballs. Makes 1 cup.