1 June, 2014
How To Make Taco Pasta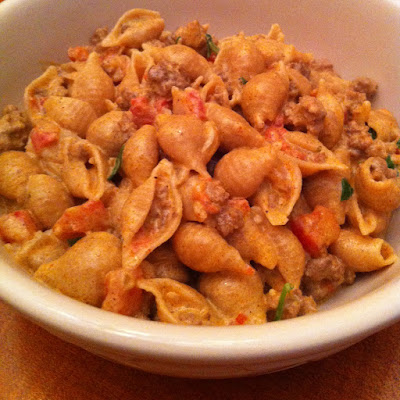 Posted in :
Dinner
on
by :
allison
Tags:
beef
,
cream cheese
,
dinner
,
mexican
,
onion
,
pasta
,
sour cream
,
taco
,
taco pasta
,
tomato
Taco Pasta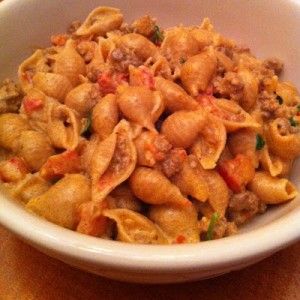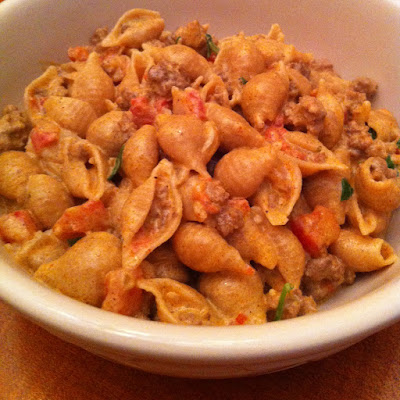 Ingredients for Taco Pasta
1 pound ground beef
8-12 ounces medium pasta shells (I used whole wheat—yum!)
1 small onion, chopped (about 1 cup)
1 clove garlic, minced
1 (14 oz.) can diced tomatoes, drained (I used Ro-tel mild)
1 packet (4 tablespoons) taco seasoning
3 ounces cream cheese
1/2 cup sour cream
1/4 cup chopped cilantro (optional)
Salt and pepper
Directions for Taco Pasta
Bring a large pot of water to boil. Cook pasta according to the package directions. Drain, reserving 1/2 cup of pasta water. Set aside.
Meanwhile, in a large skillet or sauté pan, cook the ground meat and onions over medium-high heat. Add in the diced tomatoes, garlic and taco seasoning and let simmer over medium heat for about 3-5 minutes.
TIP: I used the entire taco seasoning packet, and I don't know that I will next time. It was a bit overpowering, especially with using Ro-Tel. Consider cutting back on the seasoning packet.
Stir in the cooked pasta, cream cheese, sour cream and remaining pasta water. Continue stirring until the cream cheese is melted and the sauce is well blended. Simmer for a few minutes over medium heat to reduce the sauce, if needed.
Toss in the cilantro right before serving for some fresh color and flavor, if desired.